A Fully Alive Energy Path to Conscious Living
Wednesday 7-8pm
Skilfully and consciously navigate the trials, challenges and demands of life.
The Unfolding Being classes offer effective ways of dealing with trauma, conditioning, inflammation, stress, pain, sickness and overwhelm, while working with energy, appreciation, enjoyment and application to life, and decreased unnecessary tension.
Freedom, Openness and Connection
Cosmic Breathing and the Art of Wisdom
5-week course starts Wednesday 1st June
A warrior of light knows that certain moments repeat themselves.
Paulo Coelho - Manual of the Warrior of Light
A warrior of light knows that certain moments repeat themselves.
He often finds himself faced by the same problems and situations, and seeing these difficult situations return, he grows depressed, thinking he is not capable of making any progress in life.
'I've been through all this before,' he says to his heart.
'Yes, you have been through this before', replies his heart. 'But you have never been beyond it.'
Then the warrior realises that these repeated experiences have but one aim: to teach him what he does not want to learn.
By this point in the Unfolding Being course you may have realised that you are not your thoughts, your feelings or your beliefs.
However, they may have been a convincing compass, sometimes pointing the way, sometimes leading you down dead-end roads or perhaps off track completely.
The Unfolding Being course is about establishing a road map to conscious living, whereby you can skilfully navigate the challenging or difficult times, just as you would embrace the beautiful times.
It is not about clinging or holding onto experiences but using awareness and acceptance as a path to freedom, openness and connection.
'The person of the world gains something every day. The person of the way loses something every day'.
- Daizan Skinner
The path to conscious living may not be a comfortable one.
For some it is met with relative ease, and they may wonder what all the fuss is about. For others the journey of unfolding can be more like riding a rodeo, and you may want to get off, or wonder why you got on in the first place.
Either way, the best choice is to continue, and all the abundant energy will be available for positive uses.
It is here that we revisit or introduce you to the next part of your journey – Cosmic Breathing and the Art of Wisdom.
Through your development of increased awareness, energy, mind and movement skills you are now more likely to be ready to merge with Cosmos with Cosmic breathing.
Freedom, Openness and Connection
"Cosmic Breathing brings tremendous benefits into our everyday life in the mundane world. A spiritual awakening when one expands into the cosmos is life changing. His life will never be the same as before. It brings joy and meaning to his mundane world.
He may realize that his spirit will never die, thus overcoming the greatest fear of most people, the fear of death. This will give him tremendous confidence in life."
Grandmaster Wong Kiew Kit – Cosmic Breathing at the UK Summer Camp
Cosmic Breathing
When we merge with the cosmos and return to the mundane world, we carry back with us energy from the cosmos, thus making us stronger than before.
Regular practice of Cosmic Breathing provides a sense of reassurance that in a wider awareness things are ok even when the journey feels difficult. We realise that there is no one answer to what we seek, and that through increased awareness the sticking points become more obvious, acceptable and easier to pass through.
When we practice Cosmic Breathing and expand into the Cosmos, we experience things as they are. Not separated objects and things, as in our mundane world, but as integrated spread of energy in Cosmic Reality. We realise we are an integral part of the Cosmos, which is much bigger and stronger than our physical body.
The Art of Wisdom
The Art of Wisdom was once a closely regarded secret, revealed by master Liu Han Wen. As a meditation practice the Art of Wisdom can help you merge with the cosmos and be deeply transformative as a practice. We will be practicing this art in preparation for cosmic breathing.
Why train these arts when we have other arts like Bone Marrow Cleansing?
Bone Marrow Cleansing is also transformational. The practice helps release old patterns and negative energy, cleanses and nourishes the systems and boosts our energy levels. It also paves the way for deeper and progressive practices such as Cosmic Breathing.
You may have already achieved so much in terms of experience and realisations, and even think the work is done. However, you are only part of the way.
Old thoughts, patterns, emotions and suffering can still have hold. But, if you can keep going, be reassured that this is only a stage and will be pass, and when it does you will reach a stage of equanimity. At this point there is a deidentification of the physical, emotional and mental stuff, and an awareness that things can rise and pass away quite freely.
Things may still arise and be experienced in the body-mind systems, but there is no longer a doubt that the thing to do is stay with the practice. There is also a sense of relief in this realisation. We may still experience suffering, but no longer identify with it personally.
Unfolding Being


Cosmic Breathing and the Art of Wisdom
Starts Wednesday 1st June, 7-8pm
Every Wednesday for 5 weeks
Join live on Zoom or catch up using the recordings
£99 for new students
£79 as part of the Unfolding Being course
This class must is open to students who have at least 12 months practice with Fully Alive or Shaolin Wahnam, or have been on the Unfolding Being course.
The Internal Essence of Bone Marrow Cleansing
In a course that was thought to be at the highest level of Bodhidharma's teaching, Sifu Tim Franklin delves deeper into the skills and benefits of Bone Marrow Cleansing.
Bone Marrow Cleansing is a skill, not a technique. It is the skill of energy flow at the 5 levels:
Skin Level
Flesh Level
Meridian Level
Internal Organ Level
Bone Marrow Level
Peace, Courage and Mental Clarity
Previous attendees of Bone Marrow Cleansing courses  will have already benefitted from Qi flow at the levels of skin, flesh, meridians, internal organs and bone marrow (nerves). This reaches the deepest levels and is able to cleanse deep-rooted physical, emotional, psychological, even karmic blockages. Besides this it provides deep peace, courage and mental clarity - all requirements on the path of spiritual cultivation.
Deep Clearing
Whether this is the first or third time you have done this course you will have the opportunity to learn or review the key skills of directing chi to the five levels of the body.  And, in addition to the usual high-level teaching practised on this course, Sifu Tim will be focusing on transmitting the skills to specifically clear Psychological, Emotional, Physical and Karmic challenges.
Releasing emotional, mental, physical and karmic stuckness, using the skills of Bone Marrow Cleansing, can give real relief to challenges that previously haven't shifted.
Increased Fluidity and Internal Force
Taijiquan and Shaolin practitioners may also be surprised at how these skills distinctively enhance their martial attainment, internal force and fluidity.
All of the skills and experiences on this course both enhance and are enhanced by those of Sinew Metamorphosis and the 18 Lohan Hands. They are a wonderful set of tools in the process of spiritual cultivation.
The Internal Essence of Sinew Metamorphosis
Sinew Metamorphosis is a simple, direct and powerful method for building and releasing energy.
Performed correctly the outcome can be profound, leaving the practitioner in a sense of awe, wonder and appreciation of the marvel of life and the Cosmos.  
When you practice Sinew Metamorphosis as a mind-body-energy exercise, while being in tune with the Cosmos, a person can spontaneously activate high-level skills. Through these exercises we can feel charged with energy, grounded, expanded, in-tune with the Cosmos, and freer physically, mentally and emotionally.
"Tuning in with the Cosmos energy flowed effortlessly through the body, meridians open.
Moving the hands into position for Flicking Fingers energy rushed down my arms and hands.
The first flick of fingers a surge of energy released back up my arms into the body.
With the second flick of the fingers the Small Universe Flow was triggered.
The third flick of fingers chi flooded all the meridians.
Releasing the hands every cell in the body vibrated.
Then gone, expanded, I was nowhere and everywhere."
- Tim Franklin, 2015
In this 4-week course you will be guided through the essence of Sinew Metamorphosis and learn the methods for directly accessing powerful energy and flow states.
Ideally you will already be familiar with some of the Sinew Metamorphosis exercises to best benefit from this course.
Attain a One-Pointed Mind

Develop Tremendous Internal Energy

Recharge your Meridians

Help Trigger the Small Universe

Expand into the Cosmos

Experience Being Grounded, Expanded and Connected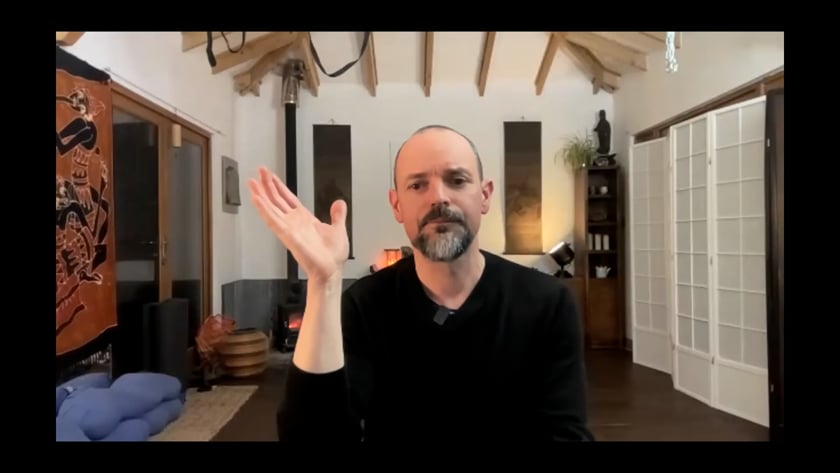 The Internal Essence of the 18 Lohan Hands
How do we use the internal dimensions of a set of 1500 year old movements to cultivate the spirit, release old blockages and align ourselves physically, emotionally, mindfully and energetically?
During the 18 Lohan Hands course, online in 2021, many of the students experienced advances in their understanding, level and experience of arts.
The month of exploration of the essence of the arts has been an advancement of depth for the students of the Unfolding Being course, reminding us of the tremendous benefits passed down 1500 years.
Unfolding Being: a road map to more easeful living
As part of the 'Unfolding Being - a Fully Alive Energy Approach to Conscious Living' course, we are exploring and deepening the mind-body-energy road map already travelled.
Revisiting the vital foundation skills to the more advanced energy breathing practises

Including the various upgrades and insights received along the way from where you are now using a clear and concise map.

There will be viewpoints along the way, time to enjoy the process and no need to ask, "are we there yet."

A guided, experiential journey that will unfold as you progress and become even more skilful than you already are.

Each landmark we arrive at will become apparent, and you will know how to get back there through your practice, increased skill and clarity.
This was one of the aims of Fully Alive more than ten years ago:
Provide a road map to conscious living through
mind-body-energy practices.
However, it was not known from the outset what the path of Fully Alive was. We just appreciated the Shaolin Arts are rich in teachings from what our teacher had passed on to us. And that these teachings had a profound effect.
Forward wind ten years, 26 Fully Alive courses and thousands of hours of guided practise, we now have a map, well-travelled.
The Fully Alive path has included skills in using energy, from developing an energy flow, to increasing energy levels, to refining energy and merging with the Cosmos, often leading to spiritual breakthroughs and realisation.
We are all unfolding as part of this journey. And it is my honour to pass you these teachings through a new lens of being. I invite you to join me for the next part of your journey in conscious living.
Unfolding Being
Wednesday 7-8pm
£79 one month/£199 three months
This class is open to previous and existing students at our school who already have a foundation understanding and experience of generating, building and expanding energy.