Start the day feeling energised, focused and relaxed
Qigong for Health, Fitness and Balance
Take Control of Your Health and Wellbeing
Start the day feeling focused and energised. 
These classes focus on improving overall health and wellbeing through the gentle, relaxed movements of qigong.
Learn to tune into your body, and work with your mind and breath to:
Reduce tension

Increase strength

Improve flexibility

Create balance in mind and body
'Such a great start to my day. I feel blessed to feel fully alive! No sciatica by the end of this morning's session.' 
-Beatrice
'One of the most important aspects is how accommodating qigong is to EVERYONE regardless of what you can actually do. After the classes I always feel I've done something meaningful.' 
-Scilla
'I feel that we are on a journey with Tim.  He is gently creating an understanding of this area which was completely new to me a year ago. It's very powerful.'
-Eileen
Qigong for Vitality, Flow and Deep Inner Calm
Restore and Maintain Your Energy
A gentle, nourishing way to start your morning.
The Friday morning classes are deeply relaxing and restorative. You will develop mind and energy skills to:
Restore your energy
Increase your vitality
Release stress and tension
Feel calmer and more focused
'I find the class useful as a guide to just be still and a reminder to rest. It is also contributing to regenerating my energy stores.'
-Monique
'This was an almost perfect standing Zen meditation and set me up well for the day.'
-Jonathan
Take a few minutes to sit down and be guided through a meditation to gently open up the body using the mind and the breath.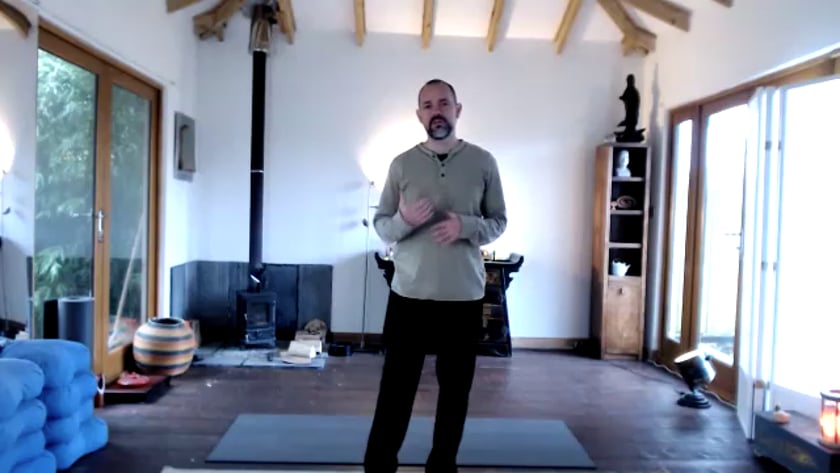 Perfect form isn't important in qigong practice.  If you have limited mobility or physical restrictions, you can still do the exercises and get the benefits from them. You can also do all the exercises sitting down.
Join live or in your own time
You can join the classes live via Zoom, or take them in your own time using the recordings.
Support for your practice
The class groups are friendly and welcoming. There is a guided practice in every class, and you are invited to share your progress and ask questions, either in the classes or by email, to support you in your practice.
Learn an effective daily practice
You will learn an effective 10-15 minute practice that you can do every day to keep yourself well.
Prices
Book either the Wednesday or Friday morning qigong class, or both classes, for one month or three months at a time.
One class per week:
£39/month or £99/3 months
Two classes per week:
£59/month or £149/3 months
If you have a question or need help with booking please get in touch.