The Way of Physical, Mental, Emotional,

Energetic and Spiritual Development
Shaolin Arts Classes
Monday 7-8.30pm and Saturday 8.30-10am
Live Online
Training in the Shaolin Arts is life changing.
Train your mind, body, and energy systems for improved physical, mental, emotional, and spiritual wellbeing.
Increase your health and resilience training, and learn how to apply what you learn in class to your daily life.
More than a system of fighting
Many people mistake the Shaolin Arts as just a fighting system, missing the essence and depth of the arts. 
Combat training is just one part of Kungfu, and Kungfu is one aspect of the Shaolin Arts.
The Shaolin Arts go beyond everyday martial arts training. They benefit from thousands of years of practice and cultivation. They are based on a profound understanding of how the mind-body-energy systems work.
Shaolin Grandmaster Wong Kiew Kit was clear that the Shaolin Arts are here to enhance your enjoyment of life, here and now.
Practising is a 'way of being' - providing increased vital energy, improved health, mental freshness and spiritual joys.
Become fitter, healthier and happier
Historically, a person would first be well through the practice of Chi Kung. They would then move on to the more arduous training of Shaolin Kungfu. This includes stance training, combat application, weapons, mind, body, energy and spiritual training.
Nowadays, few people are willing or able to commit many hours to their practice. So in our classes, the focus is on becoming fitter, healthier, happier and more confident. All these outcomes are attainable through regular weekly training.
Whether you are looking to immerse yourself in the Shaolin Arts or wish to use them to enhance your daily life, the weekly classes are an excellent place to start.
When you join the Shaolin Arts class, you will work through the depth and scope of body, energy, and mind, training progressively and safely.
Whether you are a complete beginner or an advanced practitioner, you can join the classes and get the benefits.
'The Twin Pillars of Shaolin are Courage and Wisdom'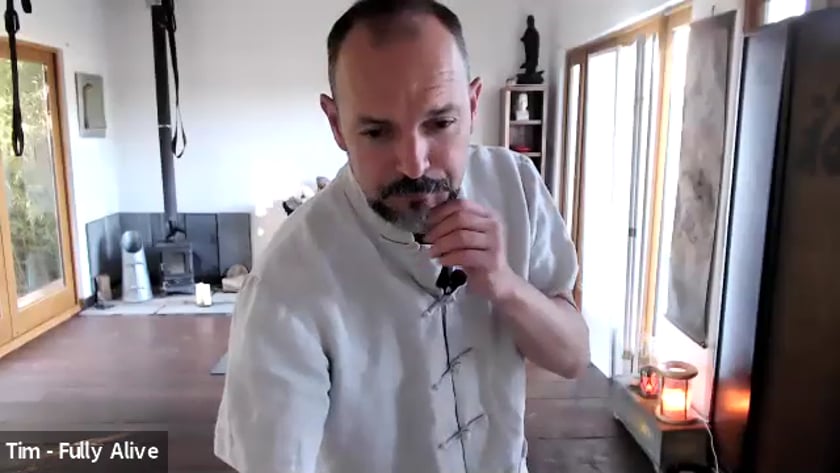 A half-hour introduction to opening the way in the Shaolin Arts. Let Tim take you through some gentle exercises to relax your body and mind, opening the way for energy to flow.
Develop fitness, resilience, confidence, and calm
'Shaolin Arts class on a Monday evening is half an hour of yoga and stretches, half an hour of Chi Kung and half an hour of Kung Fu.  It is the most comprehensive class that I've taken in the past 13 years that I've been practising these energy arts. The courses are carefully structured to help us experience and gain greater awareness of the benefits of each aspect of the training and to explore the profound applications they have in everyday living.  
They are fun, challenging, relaxing and rewarding. I am in my late fifties and I have greater agility and suppleness and more awareness of the tensions in my body and mind and how to respond to these than I have had for a very long while.  Tim's teaching is very inclusive, clear and easy to follow and there is plenty of time to ask questions and review what we have been doing. These classes are so much more than just an energy reboot (as if that wasn't enough in itself), I always finish them feeling refreshed and renewed in body and mind and set up for the week.'
Min Angel - London
Training includes Chi Kung, Dao Yin, Neidan, Yoga, Zen and Kungfu, and you can start straight away, whatever your level.
Over the last 1500 years, many Emperors, generals, warriors and scholars have trained in the Shaolin Arts. This history has influenced the development of various health, business, and conflict strategies.
Many students join the Shaolin path not because they want to learn how to fight, but to feel more equipped and confident in defending themselves against what life throws at them.
The classes include three main aspects:
Opening the Way - Releasing held tension, increasing flexibility, balance and strength for increased fluidity and movement (includes Yoga, Dao Yin and therapeutic practices)


---

Entering the Way - Skills in using energy (chi), mind, body and breath for clearing, building and nourishing systems through Chi Kung (Qigong)


---

The Warriors Way - Shaolin Kungfu stances, movement, zen and energy practices for increased strength, chi, focus, resilience and cultivation.
As you develop, you can progress to combat application and weapon training.
In Shaolin, there are no belts. When you are ready, you move to the next level.
At the beginning of your training, the focus will be on preparing the body, mind and breath, letting go of tensions, learning how to relax and remain calm, increasing flexibility, stamina and ease of movement.
The practices of Yoga, Dao Yin, Chi Kung, Stances, One-Finger Shooting Zen, Tiger Claw and Kungfu patterns help prepare you for more in-depth and advanced training.
I look forward to sharing the benefits of these beautiful arts with you.
Sifu Tim Franklin
Monday 7 - 8.30pm

Saturday 8.30 - 10am

Live online, plus receive the recording to take in your own time

Book four classes - £80

Included in the One with Everything deal